III. Overview of Regulations, Policies, and Procedures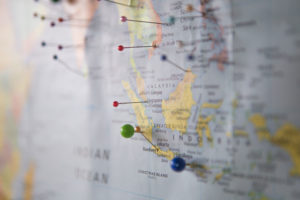 Penn supports an open academic environment where scholarship and research are conducted without censure of ideas and without restriction on who may participate in activities. This applies regardless of field of inquiry and regardless of the physical location. Penn faculty and students should be comfortable that global research collaborations and scholarly engagement abroad and on campus are permissible as long as basic steps are taken to ensure that no legal issues arise as a result of the activity.
Penn's global engagement activities also uphold the University's non-discrimination policy, which stipulates that "The University of Pennsylvania values diversity and seeks talented students, faculty and staff from diverse backgrounds. The University of Pennsylvania does not discriminate on the basis of race, color, sex, sexual orientation, gender identity, religion, creed, national or ethnic origin, citizenship status, age, disability, veteran status or any other legally protected class status in the administration of its admissions, financial aid, educational or athletic programs, or other University-administered programs or in its employment practices."
In addition, all Penn activities, whether conducted on campus or overseas, must comply with applicable regulatory requirements. These regulatory requirements include U.S. export control laws, promulgated by the U.S. Department of State, and the U.S. Department of Commerce, and U.S trade sanctions promulgated by the U.S. Treasury Department. Specific information about each of these regulatory schemes and the management of export control compliance at Penn is available at https;//researchservices.upenn.edu/areas-of-service/export-compliance/. U.S. export control laws restrict or require licensing for the export, even temporarily, of many items and technology to countries around the world. Penn employees working abroad, particularly in sensitive countries, should familiarize themselves with these export control laws.
Moreover, the laws restrict exports to certain entities and individuals including some academic institutions in some countries, as well as the sharing of technologies with individuals affiliated with those entities while in the United States. The Penn Office of Export Compliance can provide country-specific briefings to explain export control requirements in a particular country and assist with any questions regarding licensing requirements for specific activities.
A. Restricted party screening, export controls, and other federally-mandated regulations
Export control regulations apply to advanced technologies and specific countries. The first step in ensuring compliance with U.S. export control regulations is the performance of restricted party screening, where necessary. At Penn, assistance with screening may be obtained by contacting the Office of Global Support Services or the Export Controls Office within the Office of Research Services.
Additionally, many business offices across campus can assist with screening.
Who/what should be screened?

Memorandum of Understanding with academic institutions abroad even where the scope of future activities has not been defined
New business relationships with foreign entities that involve advanced technology (including foreign subsidiaries, even if located in the United States)
Individuals being sponsored by Penn for visas
International visitors touring Penn research labs or facilities
When should screening occur?

Screening should occur as early as possible. It should be done prior to the signing of any formal agreements, such as memoranda of understanding, membership agreements, letters of cooperation, collaboration agreements, sponsored research agreements, or purchasing agreements. Screening should occur prior to any financial transactions with the foreign entity or individual. Screening well in advance of any activities, including visa sponsorship, will allow adequate time to obtain any necessary U.S. government licenses required to allow the activity to move forward.
What happens if my research partner or his/her institution is on a restricted parties list?

Please contact the Office of Export Compliance to discuss
B. U.S. government scrutiny and federal funder interpretations
Recently, there has been intensifying scrutiny of China's activities in the United States, with an emphasis on unfair trade practices and theft of intellectual property. This scrutiny has resulted in new Congressional actions in the 2018 National Defense Authorization Act that prohibit the purchase of telecommunications equipment from some Chinese companies with the use of federal funds or where federal data will transit the system. Additionally, the relationships of U.S. academic institutions with these companies are being looked at more critically. Penn encourages faculty and employees working in STEM-related areas with Chinese institutions to work closely with Penn Global, Global Support Services, and the Office of Export Compliance to understand any changes in federal laws or policies that might impact your work.
C. Importance of disclosing international activities in grant applications and annual disclosures to Penn
Federal funding agencies, such as National Institutes of Health (NIH) and National Science Foundation (NSF), are also facing scrutiny. In particular, NIH has identified cases where proposals in the peer review process have been diverted to foreign entities, as well as instances where "shadow labs" funded by foreign governments are performing substantially the same research as that funded by NIH in the United States. As a result, these agencies are providing increased guidance on the requirement to report foreign components on research awards and what those foreign components include. It is important for Penn faculty and staff to disclose all of their international activities in their annual disclosures within their Schools and to disclose those that are related to their research in their reports and proposals to funding agencies.
D. Partnering or signing agreements/MOU with foreign institutions or organizations
Academic MOUs with foreign institutions should be reviewed by the Office of Global Support Services prior to signing. As part of this review process, Global Support Services will screen for restricted parties and institutions. Collaboration agreements should be routed through Penn's Research Inventory System (RIS) for review and signature. Restricted party screening and export control review are part of the internal review process in RIS. Most importantly, only those with appropriate signatory authority should be signing international agreements on behalf of Penn. For example, deans may sign general academic MOUs, while the Office of Research Services, the Penn Center for Innovation, and the Office of Clinical Research in the Perelman School of Medicine are responsible for reviewing and signing research-related agreements.
E. Sponsoring visiting scholars and researchers
Penn fully supports the hosting of visiting scholars and researchers from abroad. However, it is important to perform restricted party screening before issuing an invitation and sponsoring a visa to visitors to ensure that the proposed activities may be legally performed at Penn. If the scholar is from a foreign institution or university that is a restricted party, further scrutiny and due diligence may be required. For example, access by the visitor to export-controlled equipment or software or to proprietary information may need to be restricted or a license may be required to allow the visitor access. It may take several weeks to months to obtain any required government-issued licenses. Please contact expctrl@lists.upenn.edu for assistance in determining if licenses are required and obtaining them if necessary. It is also important to ensure that Visiting Scholars/Researchers understand Penn's Patent Policy and limits on the use of Penn-owned Intellectual Property after they have returned to their home institutions.
F. Visa sponsoring and invitations to Penn
It is important that all scholars and visitors on campus have the appropriate authorizations, especially when Penn is the sponsoring institution. For Penn-sponsored students or scholars, all U.S. immigration procedures should be coordinated through the International Student and Scholar Services (ISSS) office. Once on campus, any change in the student or scholar's department, field of study, access, funding, or any other immigration affirmations must be reported and coordinated through ISSS; otherwise they risk jeopardizing their visa status.
Invitation letters sent to visitors allowing them to obtain a Tourist or Business Visa to the U.S. are frequently prepared for international delegations, professional training participants, and general ad hoc visitors. While Penn is not considered the Sponsor of the Visa, any letter should clearly state the dates and purpose of the visit and all individuals and their foreign institution should be screened before issuing the letter. ISSS has guidance and sample letters to be used for some of the common academic visitor or professional training programs conducted at Penn.
G. Lab tours/visits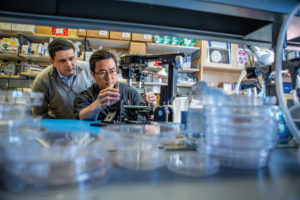 Penn welcomes visitors to the campus, including on tours of our state-of-the art research facilities. Many of our STEM related labs contain technologies and information that might be export controlled. In the context of research collaboration, information exchange is the norm and practices are defined by the head of the program. Research team members should all be aware of what information can be shared with the public, with collaborators and any other groups on campus. Attention is warranted in managing the dissemination of this information.
Even when individual and affiliated institutions are not on restricted party lists and there are no export control issues, it is nevertheless good practice to refrain from sharing information and results not yet public, or IP not yet protected, with general visitors.
Restricted party screening should be performed prior to providing a tour or hosting a potential collaborator when the activity is STEM-related and involves technologies and information that might be restricted or export controlled Best practices for international visits to labs that might contain sensitive information or technologies include the following steps:
Ensure that no confidential or proprietary information is visible at the time of the visit
Do not permit visitors to insert thumb drives or other media into Penn-owned computers.
Ensure that visitors are escorted throughout the tour
Schools and Departments are responsible for providing appropriate training to staff and faculty about guidelines for lab visits and touring.