To help in the ongoing fight against the novel coronavirus, groups across campus are donating what they can, from masks and gloves to ventilators.
As the number of COVID-19 cases continues to increase, there is a growing need for equipment to help ensure the safety of patients while also protecting health care personnel.
Among those answering the call are labs and schools across campus. Penn researchers have donated thousands of N95 masks, hundreds of boxes of gloves, protective clothing and surgical gowns, and even spare respirators and ventilators. The supplies will be used across the University of Pennsylvania Health System, Penn Medicine's six-hospital health system of nearly 3,100 beds that will likely take on a large proportion of patients with COVID-19 across the region.
"The University community has come together in a truly remarkable way to support and help protect the staff who are working on the front line to help fight the COVID-19 outbreak," says Dean of the Perelman School of Medicine and Executive Vice President of the University for the Health System J. Larry Jameson. "In order for our providers to do their jobs safely in the midst of this epidemic, we need thousands of pieces of personal protective equipment—gloves, masks, face shields, gowns—every day, and the ingenuity and commitment from our colleagues across every part of Penn is helping us ensure we can keep our supply chain stocked to keep our staff healthy and continue this lifesaving work."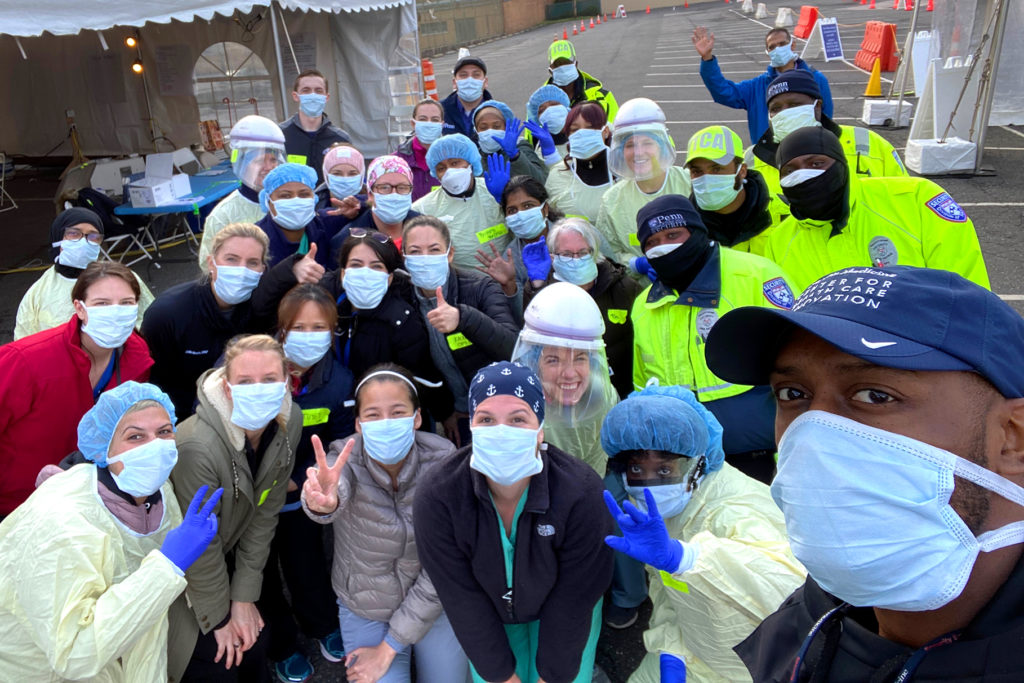 On Friday, March 20, Penn Medicine's Vice Dean of Finance and Operations, Chris Masotti, put out a call for supplies. Lynn Meaney of Penn Medicine and the response coordinator says that following the message, offers and donations started pouring in from Penn Medicine and across campus. "We had no idea when we innocently sent out a request for help. We immediately started getting calls and responses—it was quite a day on Friday," says Meaney.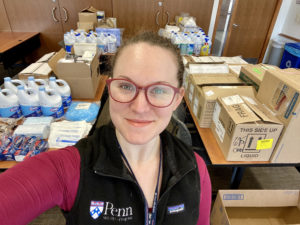 A group of medical and Ph.D. students, led by Noa Erlitzki, Eric Li, Leening Liu, and Yentli Soto Albrecht, volunteered at donation centers in the Biomedical Research Building and reached out to other labs across campus to organize donation pick-ups. Program coordinator Jessica Camp worked with Meaney to coordinate collections from departments outside of Penn Medicine to safely transfer supplies from other labs and buildings.
So far, 1,577 N95 masks, 2,998 surgical masks, 935 boxes of sterile surgical gloves, and even some difficult-to-find sterile surgical gowns have been donated at the drop-off point in the Biomedical Research Lab. "The most amazing part is that they are giving us everything they have on hand, even their own personal stashes" says Meaney.
The Operations and Planning Office, the Fabrication Lab, and the Historic Preservation Lab in the Stuart Weitzman School of Design donated 248 pairs of safety goggles, 181 masks, 100 booties, 32 boxes of gloves, and three face shields.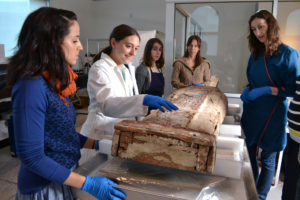 Head conservator Lynn Grant collected and donated materials from the Penn Museum, including 49 boxes of gloves, 37 pairs of protective eyewear, four boxes of respirator masks, several protective disposable gowns, and even an air-purifying respirator.
Kilian Feeney and Camp spearheaded the effort to collect PPE from research and teaching labs in the School of Engineering and Applied Science and the School of Arts and Sciences. Collectively, these schools donated 40 boxes of gloves, 20 quarts of Clorox, 10 disposable gowns, 70 facemasks, 120 bouffant caps, 100 sleeve protectors, six boxes of protective eyewear, and three boxes of face shields. Partner school ShanghaiTech University also donated more than 600 N95 and N90 masks.
The School of Nursing donated 1,900 face masks, 600 boxes of gloves, 540 N95 masks, 220 isolation gowns, 36 surgical gowns, 50 eye shields, 600 caps, three anesthesia machines, and a ventilator. "While they could never be enough given the magnitude of the need, we tried to do in some way a small part in giving personal protective equipment," says Associate Dean for Practice Rosemary Polomano, who adds that Nursing is also actively working with leaders in Penn Medicine to discuss other ways to support the health care system.
The School of Veterinary Medicine pitched in 103 N95 masks, more than 800 surgical and loop masks, 560 bouffant caps, and 125 isolation gowns. Penn Vet has also redeployed two ventilators to Penn Medicine. They are also ready to deploy additional supplies and ventilators if they are needed to support the ongoing pandemic response.
"The Penn Vet Intensive Care Unit is fortunate to have two state-of-the-art mechanical ventilators, the exact machines that we know are in short supply as healthcare providers struggle to deal with the influx of patients with respiratory distress. In the spirit of One Health, it is our duty and honor to lend these life-saving machines to HUP as we work together to fight this unprecedented battle," says professor of Emergency & Critical Care Deborah Silverstein.
A large supplies order made by the Singh Center for Nanotechnology earlier in the year meant that the facility had 18 months of materials on hand and were able to donate 99,000 ear loop masks, 32,000 bouffant caps, 48 reusable face shields, and nearly 200 disposable coveralls. The masks alone can sustain more than 150 healthcare workers for 21 days.
Singh Center purchasing manager Charles Veith says that stepping up to help with such a large donation was simply the right thing to do. "This affects all of us. The Singh Center can always recover, but these people need supplies now," says Veith. "Let's let them take care of this problem, and if they do that, then we can emerge on the other side."
With research labs on campus closed for the foreseeable future due to coronavirus, Penn scientists and researchers working outside of biomedical fields have still been able to support efforts to combat the novel coronavirus pandemic. By donating crucial supplies and equipment, researchers in the Penn community are both protecting health care workers and ensuring the best quality care for the patients who need it most.
"It is all hands on deck, and I am proud to see everyone at Penn working on the problem together," says chemistry department chair David Christianson. "While I've always felt that we are a tight-knit community, I am bursting with pride at the 'can do' spirit at the university."
"We're one Penn," adds Antonia M. Villarruel, the Margaret Bond Simon Dean of Nursing. "We all felt good that we were able to help in some small way. In the scheme of things, the supplies are minuscule, but hopefully our health system knows the community is here for them—whatever they need."
"What the doctors and medical personnel are doing everywhere is amazing," says Camp, adding that the community can also help combat the spread of COVID-19 by staying home and practicing social distancing. "That's honestly the most important part: You may not be a doctor who's on the frontline, but by not spreading it you're saving someone else's life."
"In this time of need, it is heartwarming and  is no surprise to me that the community is stepping up and doing everything we can fight COVID-19," says Vice Provost for Research Dawn Bonnell. "That not only includes the donation of supplies and equipment, but also the rapid initiation of new research aimed at fighting this virus. Penn's mission of working for the greater good of society is in action."
Penn Medicine is now accepting donations of personal protective equipment and supplies from the community. For more information, visit https://www.pennmedicine.org/coronavirus/donations. 
---
Originally Published by Penn Today on March 30, 2020. Written by Erica K. Brockmeier.  Cover Photo by Eric Sucar, Office of University Communications