The Penn Research Excellence Initiative, spearheaded by the Office of the Vice Provost for Research, supports research credibility and integrity on Penn's campus and across the Philadelphia region with the stated goals of:
Reinforcing our commitment to a culture that embraces the highest quality of research
Promoting resources and strategies for researchers to support research excellence
Providing researchers & leaders with context to influence external stakeholders toward practices supporting research excellence nationally & globally
Signature Components
Philadelphia Symposium on Research Credibility and Excellence including multimedia outputs for use in future training
Electronic Research Notebooks for Research and Education
Training and Resource Task Force
Resource Hub providing easy access to materials that support research credibility (Launching Q2 2020)
Update on Philadelphia Symposium on Research Credibility and Excellence
On October 15, 2018, Penn along with co-sponsors Drexel University, Temple University, Thomas Jefferson University, The Wistar Institute, and Children's Hospital of Philadelphia hosted the Philadelphia Symposium on Research Credibility and Excellence at the Union League of Philadelphia.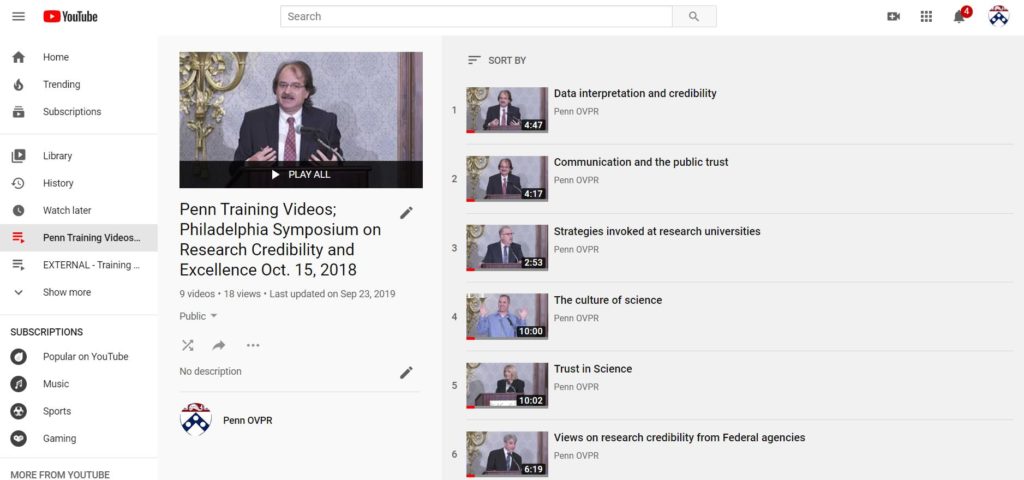 The event convened leaders from academia, industry, federal agencies, and publishers for a robust discussion of reproducibility and research integrity and revealed the "inside story" of how these issues are handled by institutions, journals, and federal agencies. As a result, we have posted videos of each of the symposium speakers, interviews with all the speakers, and training videos designed around a series of themes including:
Data Interpretation and Credibility
Communication and the Public Trust
Strategies Invoked at Research Universities
The Culture of Science
Trust in Science
Views on Research Credibility from Federal Agencies
Strategies to Move the Cultural Needle
Training videos are intended to be used as discussion initiators and can be used in a wide range of settings. All videos of the symposium are available at the Penn OVPR YouTube Channel  .
Update on Electronic Research Notebooks

Penn implemented an Electronic Research Notebook system (ERN) that is transforming the way that Penn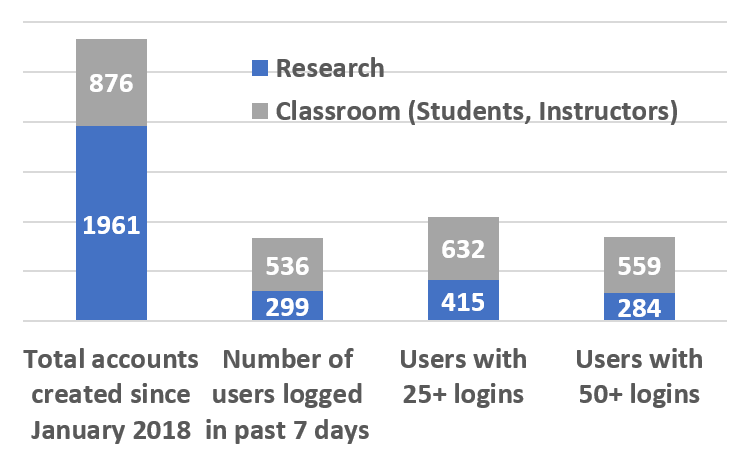 researchers and students manage research by offering access to a modern, secure, cloud-based method of managing their research data. The system also supports Penn instructors as an instructional platform on which students learn good study design and data integrity while learning course content.
In 2017, after extensive engagement with the campus research community, Penn selected and implemented the LabArchives ERN solution. The implementation team facilitated over fifteen training sessions and created a website with key relevant information. As adoption grew, the team orchestrated an "Electronic Research Notebook Days" event for two days in September 2019 to showcase current uses at Penn and to provide additional training opportunities.
Since its launch, the ERN solution has impacted over 2800 members of the Penn community in over 125 departments across 11 Penn schools. These users are faculty members, research staff, lab directors, undergraduate students, graduate students, post-docs, and course instructors, spanning the entire research community. Examples of the wide range of fields in which the ERN is being used at Penn include chemistry, biology, bioengineering, mechanical engineering, psychology, psychiatry, ophthalmology, genetics, periodontics, and veterinary medicine.
Users of the ERN are distributed across faculty, students, and staff. ERNs are being used in the research laboratory and in the classroom.
For more information and to sign up visit the Penn Electronic Research Notebook Page.
Update on Training and Resource Task Force
Convened in July 2018, the task force was composed of 12 faculty members from SEAS, SAS, and PSOM, one Ph.D. candidate from SEAS, one post-doctoral fellow from PSOM, and two staff from OVPR. The task force was charged to review the current state of educational infrastructure and training in Scientific Rigor and Responsibility (SR&R). They provided recommendations in December 2018, including a recommendation to create an online resource for information and guidance to promote SR&R.
Penn Research Resource Hub Launching in Q2 2020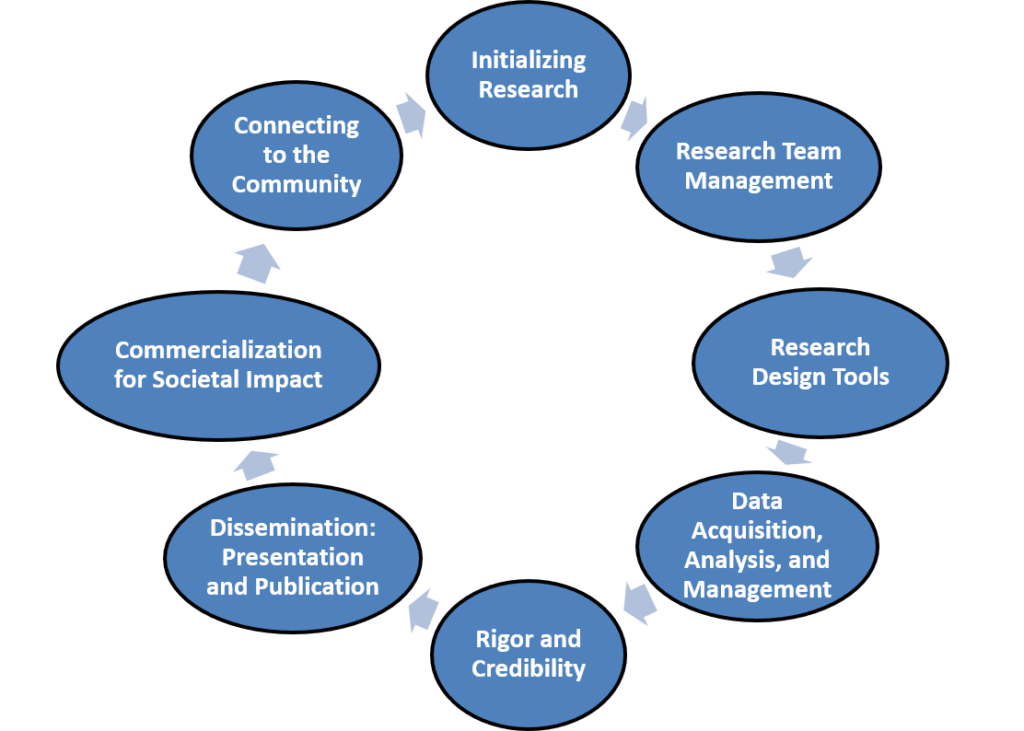 The Resource Hub is a tool that allows a user to quickly explore a Category that corresponds to a part of the research lifecycle (e.g., Data, Analysis, and Management) and find a series of related areas (e.g., Data Storage/ Archival). Finally, the user is directed to a page with useful links to internal and external sources of information in that area.
The Resource Hub Provides:
Selected links guide you through the research lifecycle
Research lifecycle stages are represented by categories
Resources from both Penn and external sources included
Crowdsourcing to continue adding resources
The screen captures from our prototype site below show the process a user can utilize to find the resources they need. In this example, the user starts at the Research Resource Hub home page which includes a series of "cards" representing different resource topic areas. Using the "Category" drop-down menu, the user can filter the topic areas by the Research Lifecycle area of interest. In this example, we are looking at Initializing Research. Finally, the user selects the "card" for Funding Sources and is brought to a page with helpful links from both Penn and External sources.