A new funding mechanism offers grants designed to help researchers mitigate unexpected costs and provides opportunities for scholars to delve into new areas of study.
Penn's Office of the Vice Provost for Research has launched the Research Recovery Program, a new funding mechanism designed to mitigate the impacts of shutdowns and restrictions on research activities. The program offers grants designed to help researchers mitigate unexpected costs, fill gaps in grant funding, and provide opportunities to explore new areas of research, from new avenues of study related to impacts of coronavirus to health care inequalities.
Faced with a rapid shutdown of on-campus research in March, the Penn research community has been slowly and safely resuming on-campus research and clinical activities starting with phase one in early June. But even as work has resumed and expanded this summer as part of the second phase of research reopening, scholars across campus are still reeling from the wide-ranging and far-reaching impacts of shutdowns and travel restrictions on their work.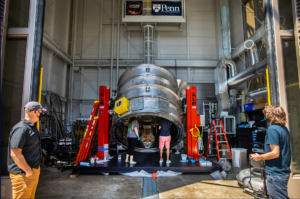 These impacts are also not distributed equally, says Dawn Bonnell, vice provost for research. Projects that rely on bench work, field work, or human subjects have been significantly impacted by the pandemic, and there are also unequal impacts on women, families with children, underrepresented minorities, and faculty seeking tenure.
To address some of these challenges, Penn has already implemented several new policies, including a temporary suspension of the five-year limit for postdoc contracts, the opening of the Postdoctoral Fellowships for Academic Diversity program to Penn graduates, an extension of the tenure clock, and the recently launched COVID-19 child care grant. Now, the Research Recovery Program seeks to address additional pandemic-related impacts by supporting those whose work has been disproportionately impacted by the pandemic through four new funding mechanisms.
The Research Transition Fund is available to those working in the social sciences and humanities and will support scholars whose work has been impacted by COVID-19, such as not being able to complete a project due to social distancing or travel restrictions, or it can be used to pivot towards a new topic related to the pandemic. The Research Disruption Mitigation Fund will provide grants to offset unexpected costs that were incurred when either shutting down or restarting research, and Bridge Grants are available for researchers in need of support between external grant funding. These three funding opportunities will be accepting applications soon and are available to pre-tenure faculty and/or researchers disproportionately impacted by the pandemic.
Another mechanism available as part of the Research Recovery Program is the Social Inequality in Health Status and Health Care grant, which funds research that address health status disparities. "The pandemic has emphasized how much health disparities are impacting society," says Bonnell about the reason for launching this funding mechanism, which is currently accepting applications.
Bonnell says that the resilience and dedication of the Penn research community during these challenging times has been inspiring. Even with abrupt shifts to remote working, researchers continued to be as productive as possible, made pivots to new areas of study, and even supported health care workers by donating PPE and by fabricating face shields. "This community stopped on a dime and ramped down effectively and safely, under uncertain circumstances, and then resumed in a manner that's been thoughtful and safe," says Bonnell. "The community is well-positioned to continue along its trajectory of doing research, in new areas for some, and there's a pent-up demand to get back to work."
Along with supporting the research community, the program also connects to Penn's Campaign for Community grants through its focus on health inequalities. Launched by the provost's office this summer, these grants will support projects and conversations about racial justice in Penn and the greater Philadelphia community. "These are both ways that the University is trying to make impact on society, with the COVID pandemic and with social justice," says Bonnell. "This is Penn, and this is what Penn does in challenging situations."
The Penn Research Recovery Program is supported by a combination of funds redirected from current programs and is augmented by funding from the Office of the Vice Provost for Research.
---
Originally published in Penn Today on September 16, 2020. Written by Erica K. Brockmeier.  
Photos by Eric Sucar.  Top photo: Biologists in Paul Schmidt's lab got back to work on their outdoor mesocosm studies earlier this summer. Researchers across campus, including the Schmidt lab, have had their progress significantly impacted by pandemic shutdowns and travel restrictions. To support scholars across campus, Penn's Research Recovery Program offers grants to help researchers mitigate unexpected costs and provides opportunities for scholars to delve into new areas of study.