I am pleased to announce the appointment of Eric Stach, PhD, MBA, as director of the Laboratory of Research on the Structure of Matter (LRSM), effective July 1, 2020.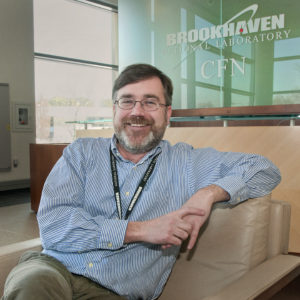 Eric is Professor of Materials Science and Engineering in the School of Engineering and Applied Science and Faculty Chair of the Nanoscale Characterization Facility in the Singh Center for Nanotechnology. Prior to joining the Penn faculty in 2017, he was at the National Center for Electron Microscopy at Lawrence Berkeley National Laboratory,  at the Center for Functional Nanomaterials at Brookhaven National Laboratory and a Professor at Purdue University. He is also Co-Founder and Chief Technology Officer of Hummingbird Scientific, a nanotechnology firm that develops advanced instrumentation for nanoscale characterization, and serves as Secretary of the Board of Directors of the Materials Research Society.
Eric is a pioneer in the development of advanced in situ and operando imaging and characterization techniques and is well-known for his collaborations across campus. His experience in leading large research programs, skills at crossing disciplinary and organizational boundaries to facilitate research here at Penn, and international recognition in the materials science community make him an ideal leader to take the LRSM into the future.
The LRSM was established in 1960 as one of the nation's first interdisciplinary materials research centers and, for 60 years, has been the center for materials research at Penn. With well over 50 active members, it facilitates collaborations among faculty from different departments and Schools and promotes links to partners across industry, government, academe, and society at large.
____
Dawn Bonnell
Vice Provost for Research
Henry Robinson Towne Professor of Engineering and Applied Science
University of Pennsylvania