Fall 2017 University Research Foundation Awards
In the recent Fall 2017 cycle of Penn's internally-funded University Research Foundation, URF Conference and Impact Seminar Support (noted with *), the Office of the Vice Provost for Research has announced awards to the following members of the faculty for the projects listed below, including over $400,000 to the School of Arts and Sciences.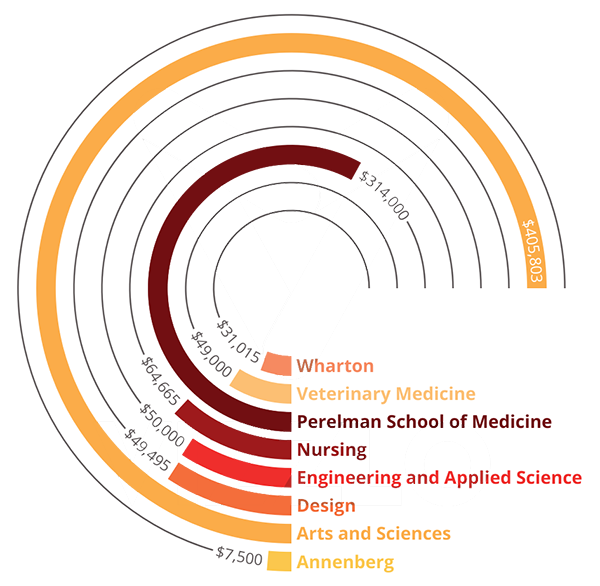 Masoud Akbarzadeh, Design; Ultra Lightweight, High Performance Structural Elements: Innovative Design, Analysis, and Fabrication Using 3D Graphic Statics
*Erol Akcay, SAS; The unreasonable ineffectiveness of mathematics in biology
Melpo Christofidou-Solomidou, PSOM; Novel anti-inflammatory strategy: Myeloperoxidase activity inhibition by a small molecule
Cynthia Connolly, Nursing; Nurses and Human Experimentation: A Twentieth Century History
*Eva Del Soldato, SAS; Strategies of Authority in Medieval and Renaissance Europe
*Ivan Dmochowski, SAS; XeMAT 2018
Ivan Drpic, SAS; Gold in Medieval Serbian Painting
*Chenoa Flippen, SAS; Mini-Conference on The Future of Immigration Scholarship
Scott Francis, SAS; Scandal and Adiaphora in Marguerite de Navarre
Feng Gai, SAS; Development of Amino Acid-Based Fluorescence Probes for Biological Microscopy
*Geoff Goodwin, SAS; The Psychology of Sustainable Consumption: Perception, Purchasing, Policy, and Promotion
David Grazian, SAS; The Culture of Coworking in the New Economy
Ronald Harty, Veterinary Medicine; Regulation of Tight Junction Integrity by Ebola Virus VP40
Daniel Hopkins, SAS; Understanding Voters in the Trump Era: A 13-Wave Panel Survey
Sara Jacoby, Nursing; Way to Recovery: Assessing the acceptability and feasibility of a technology-assisted remote monitoring intervention for injury recovery in trauma patients
Thomas Jongens, PSOM; Brain insulin signaling in an Alzheimer's disease model
*Ada Kuskowski, SAS; Gothic Arts: An Interdisciplinary Conference
*Zachary Lesser, SAS; Reading, Writing, Printing: A Conference in Honor of Peter Stallybrass
*Lin Li, PSOM; Second Britton Chance International Symposium on Metabolic Imaging/Spectroscopy
*Benjamin Lockwood, Wharton; Conference on Normative Ethics and Welfare Economics
Holly Lynch, PSOM; Evaluating IRB Quality: Identifying Goals and Measures
Monica Mainigi, PSOM; The Role of the Microbiome on Uterine Lymphocytes and Fertility
Marc Meredith, SAS; Who Votes Without Photo Identification?
Foteini Mourkioti, PSOM; Trf2 in heart development and disease
Projit Mukharji, SAS; Casting Genetics: History of Genetic Researches into Caste in India c. 1918-84
Carol Muller, SAS; The Faith of Our Fathers: Archiving the Religious Underground in Apartheid South Africa
*Holly Pittman, SAS; Cities in the Ancient World
Alain Plante, SAS; Environmental fate of dissolved pyrogenic and geogenic carbon
Kevin Platt, SAS; Subvention for Global Russian Cultures, forthcoming at University of Wisconsin Press
Alex Rees-Jones, Wharton; A method for testing reference points
Celia Reina, SEAS; Towards a data-driven coarse-graining strategy out of equilibrium
*Megan Robb, SAS; Unstable Objects in South Asia: Gender, Digital History and What to do with Things
Lawrence Rome, SAS; How swimbladder hyperinflation helps midshipman fish's superfast muscle generate continuous 100 Hz hour-long mating calls
Jennifer Ruger, SP2; Research Opportunity (RODG)—Phase 2 Global and Domestic Health Equity, Policy and Law
Florian Schwarz, SAS; Building a Comprehensive Library for Online Experiments in IBEX
*Emily Steinlight, SAS; NVSA 2018: Unfinished Victorians
*Deborah Thomas, SAS; Muslim Masculinities: A Symposium on Gender, Religion, and the Everyday
John Trueswell, SAS; Cognitive Connections between Spoken Sentence Comprehension and Learning to Read
Charles Yang, SAS; The linguistic basis of natural numbers
*Barbie Zelizer, Annenberg; Center for Media at Risk Launch Conference
——
Originally published in the Almanac on Feb 06, 2018.