Provost Wendell Pritchett announced the appointment of Dawn Bonnell as senior vice provost for research. Dr. Bonnell, Henry Robinson Towne Professor in the School of Engineering & Applied Science, was appointed vice provost for research in 2013 and reappointed in 2017.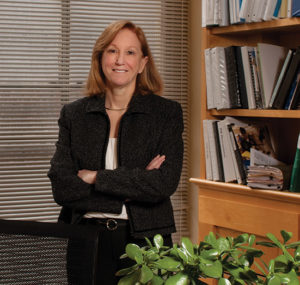 "Dawn Bonnell has been an extraordinary leader of our research enterprise at Penn, especially during the challenges of the past year," said Provost Pritchett. "She has guided our community in safely winding down research and then thoughtfully restarting it. At the same time, she has been an invaluable partner across our student and faculty portfolios, and she has never lost sight of our mission to further the global impact of Penn's research, which is now helping the world address COVID-19. As vice provost for research, she has led our highly successful initiatives to advance innovation and diversify the University's research portfolio—forging strong partnerships with industry, identifying the most exciting areas of emerging research, and encouraging startups and spinouts that can bring Penn research to a wide public audience. These efforts are embodied in our new Penn Center for Innovation, Pennovation Center, and Pennovation Works, which have become engines of innovation and entrepreneurial growth across our entire region. I greatly appreciate her deep experience and sage advice, which will benefit the entire University in the complex years ahead."
As senior vice provost for research, Dr. Bonnell develops and implements policies that promote research excellence across the University; manages key elements of the University's research infrastructure, including grant administration and research compliance; and guides the strategic efforts of the University in advancing research commercialization. She also serves as a champion for the research enterprise at Penn, leading research collaborations across Schools, exploring new areas for research, and representing Penn to local, regional, and national constituencies.
---
Originally published in Almanac on September 29, 2020.