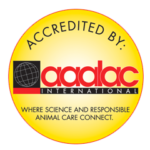 University Laboratory Animal Resources (ULAR) provides veterinary care, animal husbandry and regulatory support for the academic schools that conduct biomedical research at the University of Pennsylvania.  ULAR oversees animal clinical, regulatory, facility, diagnostic, training and business support services provided to the institution. ULAR is comprised of veterinarians, veterinary technicians, animal care technicians, facility managers, diagnostic technicians and trainers and totals more than 160 personnel that contribute directly to the animal care program.
ULAR plays an essential role in
improving and constructing animal housing facilities
providing key animal health information
ensuring that regulatory requirements for the care and use of animals in biomedical research are being met and exceeded
supporting academic training for laboratory animal veterinarians
ULAR priorities include assistance with achievement and maintenance of accreditation of the animal care and use program by the Association for the Assessment and Accreditation of Laboratory Animal Care, International. ULAR in conjunction with the Institutional Animal Care and Use Committee strives to maintain an elevated standard of animal welfare at Penn, as is expected of programs of high merit.
University Laboratory Animal Resource Website (PennKey Required)